Disney Magic Bands are Waterproof and Customizable
Ok, so these Disney Magic Bands are making everyone both excited and nervous. Here are a few features that have been recently released about the controversial bands.
The bands, which will allow guests to access their hotel rooms, the various theme parks and even dinner reservations are also waterproof. Tada! instant proof that they are meant for water park use also. This is great news for people concerned with their information's security. This means guests don't have to take off their bands (that contain payment, hotel room, reservation and personal information) when hitting the pool, making for a basically theft-proof band. (physically that is.) Guests can relax on their Disney World Vacations now with less bulk.
Disney also released a statement saying that the bands would be customizable, coming in seven different colors. That does make the whole thing a little less science-fictiony. Imagine seeing a whole park full of guests young and old with watching bracelets. That's creepy if you ask me!
The customizable bands will be great for little princesses and macho men who want to be able to show their personality through the bracelets and not just be labeled as a generic guest.
I have to say, this information is great news!
For more information on everything from hotel rooms to lunch, visit our specialists at tovs.net and start planning your dream Orlando vacation!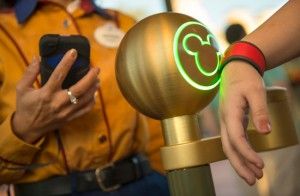 2013-09-02T16:34:58